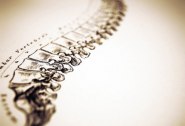 Welcome to First Capitol
Chiropractic & Rehab
A chiropractor in ST. Charles, MO.

If you are looking for a chiropractor in ST. Charles, MO who provides fast, affordable and effective care, you've come to the right place. Dr. Holland, Dr. Reckelhoff or Dr. Geisler will see you within five minutes of your arrival! We welcome all those in the surrounding St. Charles County area. Call First Capitol Chiropractic and Rehab at 636-946-7777 to schedule an appointment with one of our chiropractors. Our mission is to provide high quality chiropractic care to people in the St. Charles, MO area and our clinic specializes in effectively treating patients suffering with neck pain in St. Charles, back pain, headaches, scoliosis or if you have been in a car accident in St. Charles and have injuries.
Our chiropracic clinic is equipped with modern chiropractic equipment and state-of-the-art spinal rehab technology to help you get out of pain fast. Our chiropractor offers chiropractic care, physical therapy, spinal rehabilitation, posture analysis, custom fitted orthotics, auto accident injury care and have an on-site X-ray facility. Our office is a provider for all insurances and auto accident claims. Most car accidents in St. Charles will have no cash outlay for your care. Our goal for people living with neck, back, and other joint pain in the St. Charles and St. Louis metro areas is to provide you with fast, effective and affordable relief.
Call us today at (636) 946-7777 to start your journey out of back, neck and other joint pain!